🎉 Tribune Offer 🎉
Preview the contents of the glorious spring issue of Tribune – and get a half price gift subscription for your friend.
Preview the new issue of Tribune, out next week, and get a friend a half price gift subscription starting at just £15 for a full year of print.
Our latest issue leads with two 50th anniversary essays. The first celebrates Ralph Miliband's seminal The State in Capitalist Society, and is written by Miliband's successor as editor of the Socialist Register Leo Panitch. The second, written by Labour's Shadow Education team Angela Rayner and Gordon Marsden, looks at the legacy of the Open University and what a socialist government could do to revive the spirit of popular education in the 21st century.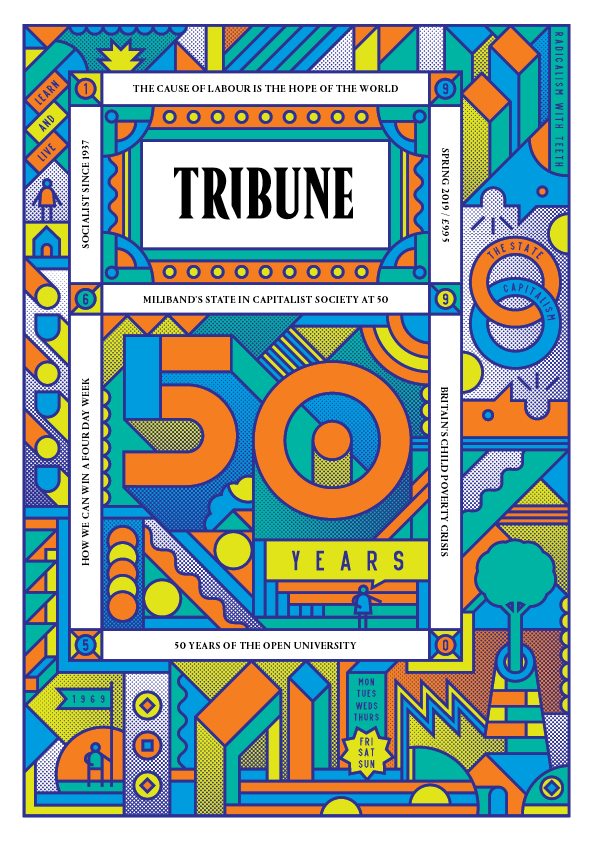 Also included in the issue: Dawn Foster on the scandal of child poverty in Britain; former advisor to John McDonnell, James Meadway, examines Modern Monetary Theory; Unidos Podemos MP Alberto Garzón on the prospects for the Spanish left; radical policy proposals for a Corbyn government on shortening the working week, revolutionising industrial relations and rebuilding Britain's industrial capacity; Charlotte Riley on the political battles over the artefacts stocking Britain's museums; and Rhian E. Jones on the uniforms of radical movements in the centuries preceding the gilets jaunes.